The Federal Energy Regulatory Commission (FERC) is holding a series of public hearings to listen to public comment on the proposed Coos Bay Liquefied Natural Gas export facility and the associated 230-mile pipeline. At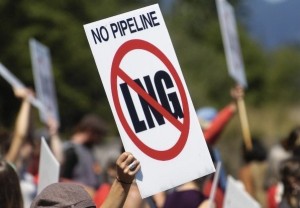 issue are the environmental impacts of this project including climate effects, water pollution from fracking and damage to forest habitats as well as the economic impacts taking of land through eminent domain, foreign company exploitation of public resources and the deleterious effects of providing inexpensive fossil-fuels to competing economies. There is much to discuss with FERC.
Organizing and Informational Meeting
Douglas County citizens are getting together to share information on this project. Find out what you need to know about fossil fuel exports through Oregon by foreign energy companies. The event is free and open to the public. This meeting is organized by Pipeline Awareness Southern Oregon, South Umpqua Rural Community Partnership, Douglas County Global Warming Coalition, Umpqua Watersheds, Landowners United, and Cascadia Wildlands.
Where: Ford Room, Roseburg Public Library, Roseburg, Oregon
When: December 1 at 6:30PM (Call 541-860-8307 for details)
LNG Public Meetings Alert
Where: Umpqua Community College, Roseburg, Oregon
When: December 9, 6:00 to 9:00 PM
Where: Seven-Feathers Convention Center, Canyonville
When: December 10, 6:00 to 9:00 PM
To submit DEIS comments, please click here.