Friday, March 11, 2016: The Federal Energy Regulatory Commission (FERC) laid out a major victory today for Oregon communities, wildlife, waterways, and wildlands, when they DENIED the plans to construct a Liquid Natural Gas (LNG) Pipeline through the state of Oregon, and also denied the plans for its associated Jordan Cove export terminal out of Coos Bay, OR.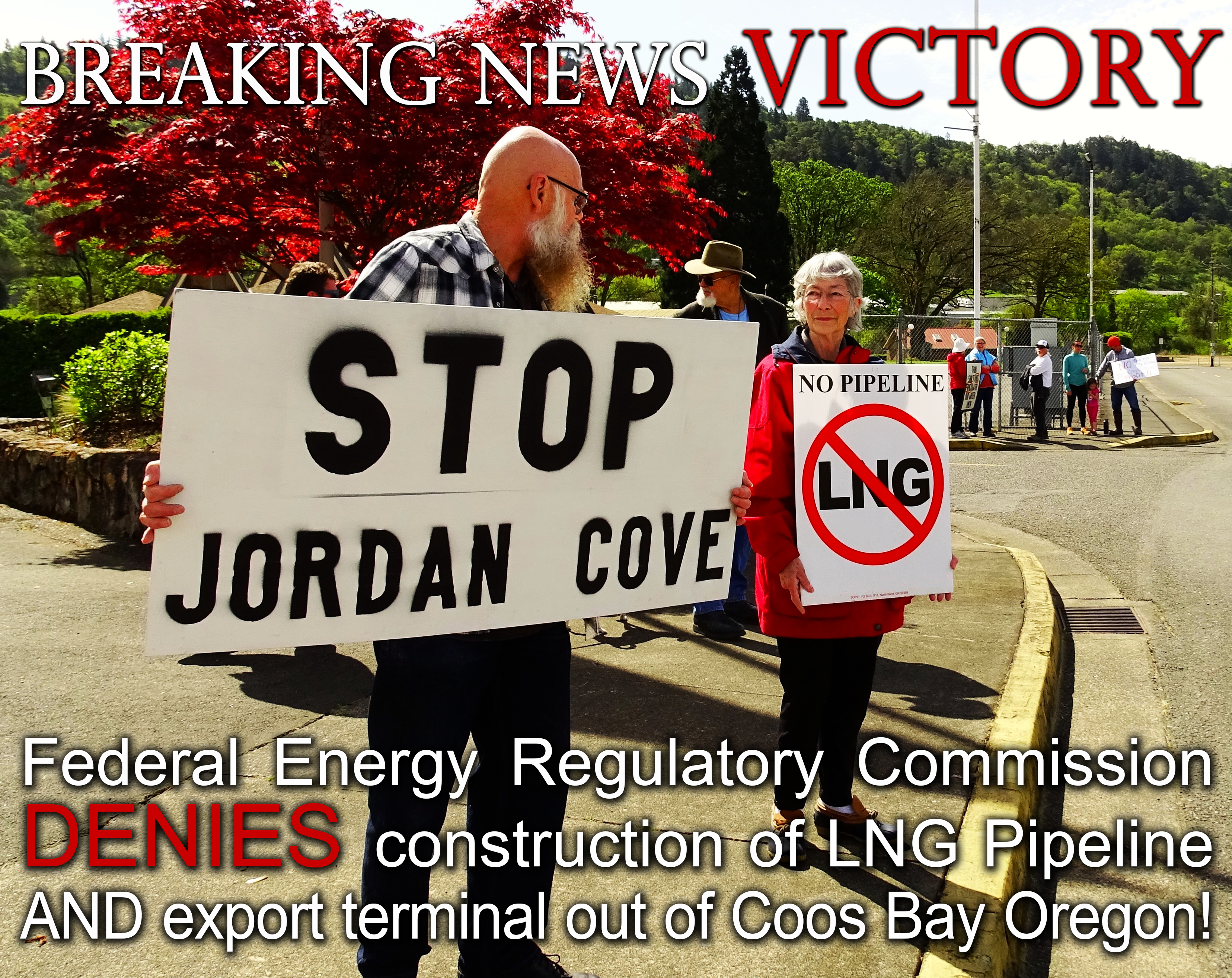 Cascadia Wildlands, coalition members, volunteers, and countless climate activists celebrate this outstanding step in the right direction.
For years, Cascadia Wildlands and allies have been closely monitoring the Jordan Cove LNG project, which was proposed by a Canadian company, Veresen, who wanted to export Canadian gas[1] to Asia by building a 232-mile long pipeline from Klamath Falls to Coos Bay.
The proposed Pacific Connector Pipeline and Jordan Cove liquified natural gas (LNG) export terminal would have required building the 232-mile long pipeline through sensitive forestland and waters in southwest Oregon in order to move fracked gas to the coast, to be supercooled, and then shipped to Asia. To do this, Veresen needed to convince our government that the scheme is in the "public interest" so they could get the right to condemn property owned by Oregon families through eminent domain.
Opposition was strong from the public, and FERC heard our movement's cries! It was declared that the pipeline was NOT in the best interest of the public, and the potential positives DO NOT outweigh the negative consequences of such a project.
Let's keep this momentum going!
You can donate to Cascadia Wildlands today to help continue our conservation and climate work.
For more information on the overall project, click here.
For more information specifically on:
The Pipeline
The Terminal
Global Warming Issues
Environmental Issues
Economic Issues
---
[1] Jordan Cove Resource Report 1, March 2012. Appendix B.1 Navigant Study page 3. "Jordan Cove is supplied 70 percent by Canadian gas"…