For Immediate Release, October 7, 2014
Contacts:
Amaroq Weiss, Center for Biological Diversity, (707) 779-9613
Nick Cady, Cascadia Wildlands, (314) 482-3746
Washington's Stevens County Urges Citizens to Kill Endangered Wolves
Conservation Groups Call on State to Stop Disclosing Wolf Locations to County
OLYMPIA, Wash.— Conservation groups today called on the Washington Department of Fish and Wildlife to stop providing wolf location information to Stevens County, which recently adopted
resolutions
claiming a constitutional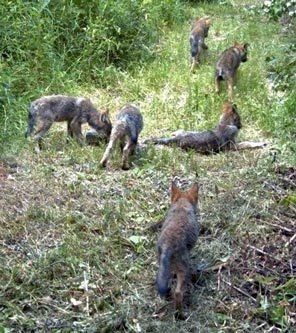 right to kill wolves and exhorting its citizens to do so. In a
letter
sent today, the Center for Biological Diversity and Cascadia Wildlands said the agency must immediately revoke written agreements to disclose daily locations of radio-collared wolves to county officials. The groups also urged the agency to rescind agreements with other counties if those counties adopt similar resolutions.
"Stevens County wants its citizens to kill wolves and the state is arming them with information that certainly makes it easier," said Amaroq Weiss, West Coast wolf organizer for the Center for Biological Diversity. "Let's not kid ourselves: The result will be more dead wolves for a population that's still struggling to gain a foothold."
The state wildlife agency has wolf location agreements with six counties, several individuals and one private entity. The
agreement with Stevens County
includes an admonition that sensitive information "should not be" redistributed, but does not prohibit it. Agency officials admit that no mechanism exists to prevent disclosure and that if leaked information leads to the illegal killing of a wolf there is little, if any, means to trace that death back to the leak. The sharing of wolf location information is highly unusual; the agency does not share sensitive location information about any other threatened or endangered species.
"The resolutions adopted by Stevens County place wolves at substantial risk of harm or death," said Nick Cady, legal director for Cascadia Wildlands. "That risk skyrockets if the state wildlife agency is sharing sensitive information regarding wolf locations. The only way to ensure there are no information leaks is to pull the plug on the agreements."
Washington's wolves were driven to extinction in the early 1900s by a government-sponsored eradication program on behalf of the livestock industry. Since the early 2000s, the animals have started to make a slow comeback by dispersing into Washington from Idaho and British Columbia. Though Washington's wolf population was estimated at only 52 animals at the end of 2013, the agency has twice conducted highly controversial lethal control actions on wolves, both of which took place in Stevens County. In 2012 nearly all of the Wedge pack was killed and six weeks ago the agency killed the alpha female of the Huckleberry pack.
In response to public outcry over the handling of the Huckleberry pack and wolf-livestock conflicts, the agency is holding a public meeting in Colville tonight at 6 p.m. at the Colville Ag Trade Center, Northeast Washington Fairgrounds, 317 West Astor Ave. The public will be able to share their views on wolf management and recovery in Washington and ask questions of agency officials. The agency plans to hold a similar meeting in Lynwood on October 14 at 6 p.m. at the Lynnwood Convention Center, 3711 196th St. SW.
The Center for Biological Diversity is a national, nonprofit conservation organization with more than 775,000 members and online activists dedicated to the protection of endangered species and wild places.
Cascadia Wildlands is an Oregon-based, non-profit conservation organization with approximately 10,000 members and supporters throughout the United States. Cascadia Wildlands educates, agitates, and inspires a movement to protect and restore Cascadia's wild ecosystems.
###