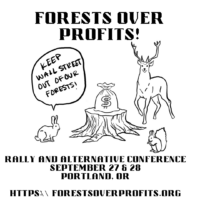 From September 26-28, the World Forestry Center in Portland will be hosting a conference titled "Who Will Own The Forest," set to be attended by the most notorious representatives in the Wall Street timber industry to scheme on the financialization of forest ecosystems, expand greenwashing, carbon trading, biomass, and land grabs in Cascadia and around the globe.
A growing coalition of community-based organizations from across the region will be hosting a public rally on Wednesday, September 27 at the World Forestry Center as well as an alternative "Who Should Own The Forest" conference from 10am – 5pm on September 28 to protest the industry's polluting practices and point to a positive vision for just and sustainable land ownership and management models.
Get in touch with Madeline Cowen, Grassroots Organizer, at madeline@cascwild.org if you'd like to get involved and volunteer! You can find more information about the event here.