by Alaska Legal Director Gabe Scott [updated 9/8/16]
TONGASS NATIONAL FOREST, ALASKA— Lots to report from our ground-truthing trek last week into Alaska's Tongass National Forest. We spent a week on Wrangell, Revilla and Prince of Wales Islands with colleagues investigating proposed and active old-growth logging projects.
This was a trip to the edge of the cresting wave of old-growth logging in Cascadia. We visited the largest old-growth sale in a generation, the Big Thorne Stewardship Project, as well as the next big sale coming down the pipe on Wrangell Island. The world should know about the old-growth clearcutting that is still happening in Alaska. You'll especially want to hear about these wolf pups on Prince of Wales.
For the week in the Tongass I was joined by Oliver Stiefel, an attorney at CRAG and co-counsel on most of our pending Tongass litigation; Jacob Ritley, a cinematographer who offered his skills to help document what is going on; and the incomparable Larry Edwards, the southeast Alaska forest campaigner for Greenpeace. We met up for a couple days driving and flying around Wrangell Island, then down to Ketchikan to look at the Saddle Lakes road. From there we ferried over to Prince of Wales Island for several more days in the woods.
Tongass at the Crossroads
Things are happening on the Tongass.
The big
new Forest Plan is out
, vaunted as a "transition" out of old-growth logging and into second-growth logging. It's a nice idea, but the actual plan is to prop up old-growth logging for several more decades. We expect to be filing our administrative objection to the plan in late August.
The biggest old-growth sale in a generation, the Big Thorne Stewardship Project, is being rapidly cut while our appeal for an injunction waits for a decision by the 9th Circuit. Over 6,000 acres of old-growth is being logged, nearly 150 million board feet, on north central Prince of Wales Island.
The next of the big logging project, the 5,000-acre
Wrangell Island Project
, is moving down the pipeline. There is still time to prevent that mistake as the agency reviews comments on the Draft Environmental Impact Statement.
Construction is beginning on the Saddle Lakes road out of Ketchikan, which would further threaten the imperiled wolf population on the Alexander Archipelago.
And that's just on Forest Service land. On State and private land, it's even worse.
The purpose of a groundtruth expedition is to provide a reality check for the schemes laid out on paper. The truth on the ground on the Tongass is even more striking and urgent than we had feared. The Forest Service is mowing down forests in a last gasp, while the industry scrapes the bottom of the barrel it has emptied. Old-growth logging is directly threatening the imperiled Alexander Archipelago wolf, including one pack in particular.
Wrangell Island – Scraping the barrel
Wrangell, Alaska is a great little town in a beautiful setting. It sits at the north end of a big island, separated by inlets and narrows from even more remote islands and mountain wilderness of the Stikine. It's a great place to visit, accommodating but not overrun by tourists. Wrangell has busy small-boat harbors and lots of salmon fishing, a nice main street and neighborhoods, surrounded by post-card views of ocean inlets, forested islands and high mountains. They have a new ship yard, which is turning out to be a brilliant economic move for the isolated community, keeping boats and people working in town through the winter.
The purpose of our visit was to look at the next big old-growth timber sale, the Wrangell Island Project. It proposes logging on 5,309 acres, almost all untouched old-growth. This is one of the large, long-term sales originally ordered by our old friend Mark Rey to re-establish the logging industry.
In Wrangell we met up with a local homesteader, who in summers works a "John Muir tour" for cruise ship passengers. This was a personal highlight because I'd always wondered where exactly it was above town that John Muir lit his famous fire in 1879. (Quick history tangent: In Travels in Alaska Muir describes charging up a mountainside on a black night in a howling rainstorm, then lighting a fire using only a small candle and a pocketknife in the driving rain.  He wanted to observe the trees' wildness in the torrential storm. Being John Muir, his fire made a flame so huge it illuminated the low clouds over town. The townspeople were apparently much-alarmed by the weird light, suspecting spirits or a new kind of omen.)
There used to be a mill in Wrangell. At least then one could see some logic in a 65 million board foot monstrosity, but Wrangell's foreign-owned mill skipped out on their long-term contracts decades ago, and an American effort to save it went bankrupt in 2004. The town has moved on. Today there are a few small mills, which is all to the good, but those guys only need a few acres a year. Wherever the market for a huge influx of Wrangell Island logs is, it certainly isn't in Wrangell.
As we flew and drove around the island it was clear that the best forests have already been logged away. From a timber point of view, the game is over. Obviously. The Wrangell Island Project targets the best of what remains, which means these stands were rejected by timber companies over and over through the years. But it also means that these forests have become critical for the remaining wildlife. We saw some gorgeous old-growth stands. Not much of the high-volume stuff that is so critical for winter habitat, but some gorgeous high-elevation and north-facing stands. Lots of the stands we saw that have been marked for cutting surely will lose money for whoever logs them. Why log five acres of old, gnarled-up cedar and snag to get one truck-full of logs? Kind of a head-scratcher, honestly.
This sale is so big, and so little of the big tree forest is left on Wrangell, that this project would remove the long-term possibility of local, economic logging. The last gasp of the timber beast could actually kill the beating heart of the small-scale, Alaska-style logging operators. It is the classic Alaska story of the resource being hauled away, leaving nothing for the locals (let alone the wildlife) to get by on when winter comes. It doesn't make sense.
We'll try to stop that happening on Wrangell. Our coalition submitted detailed comments on the Draft Environmental Impact Statement days later. We are hopeful that logic, reason and law will prevail.
Ketchikan
Next we flew to Ketchikan, on Revillagigedo Island, to look at the Saddle Lakes Project. Saddle Lakes was an old-growth timber sale and road-building project east of Ketchikan. After we challenged the project legally the Forest Service dropped the logging portion. But the State has insisted on going forward with the road connection between Ketchikan and Shelter Cove.
I'll admit, the Shelter Cove road does have a certain logic to it. The backcountry is scattered with remote networks of logging roads. Some people want to link them up to where people can easily drive them. Ketchikan is a remote island town with a good size population, and people here do all of their playing in the outdoors: hunting, fishing, trapping, and berry-picking. One of the most popular directions residents go is out the White River Road. Not long ago that area was clearcut, on an epic scale, by the Alaska Mental Health Trust. But just beyond that are a whole heap of fantastic inlets and valleys and forests and rivers to explore.
With Shelter Cove road the Forest Service and State of Alaska are trying to connect Ketchikan with the network of logging roads to the east. Those roads ultimately head north, and ultimately the State hopes to link all those road systems up. The new road linkages would also facilitate additional clearcutting and other development on USFS, State and private lands.
The trouble is that, first, nobody is maintaining those roads. They slough off into streams and the culverts commonly block passage for salmon. And second, linking remote roads with big towns is a sure-fire way to cause the wolves to be hunted and trapped out of the area. Alexander Archipelago wolves have been hit so badly by the one-two punch of clearcut logging and aggressive wolf hunting that they are on the cusp of extinction. Keeping remote areas remote is the only way they might survive.
And that is why we're challenging the road in Alaska District court.
Prince of Wales Island
You guys, seriously, this place!
For lovers of wildest Cascadia, Prince of Wales Island is just about the coolest spot on earth. They should set the Jedi training temple here in the next Star Wars. People would be sure it was CGI. The trees are big, the rivers are clear, the forest is boundless.
We were here to examine the Big Thorne sale. At over a hundred million board feet from over six thousand acres of old-growth it is the largest old-growth timber sale in a generation. We've challenged this sale in court, but lost our bid for an injunction in the Alaska District Court. Cascadia and several others have appealed to the 9th Circuit Court of Appeals last year. The case has been fully briefed and argued, and currently sits on the judges' desks waiting for a decision.
It is impossible to convey the truth on the ground in this place with words. To know the place we're talking about I need you to suspend your disbelief and re-activate the childlike side of your imagination. Picture an ancient wooded glade out of a fairy tale— all stately green trees drooping moss, gentle blue rivers teeming with fish, perfect meadows where Bambi is learning to walk. It's a place where cute little wolf puppies—the hope of a dying breed— were born this very spring live under the roots of an old-growth tree at a quiet blue lake ringed in green.
Got it? Now, I'm telling you, this place is real.
The forest naturally is world-class. Forest to take your breath away.  Tall, straight, towering Sitka spruce; huge western hemlock all wild and twisted. There were even shore pines and alders of alarming size; trees that told you this is a good place to be a tree. And the cedars, oh the cedars. Red and yellow cedar lace the forest, dripping with moss and lichen and bark. And the dead trees were even more beautiful, towering totems weathered by centuries, swirling with color.
Wildlife thrives here too. Prince of Wales is notoriously thick with black bears, though we saw little sign. The island is snaked through with rivers and lakes rich with trout and salmon, a fisherman's post-card around every bend. Sitka black-tailed deer are naturally abundant, feeding humans and wolf and gladdening the forest scene. The several towns and villages on the island are spectacularly set, and have deep history. It's a place where stores advertise "Sundries." The abundance that Prince of Wales is blessed with has also been a curse. It is here that logging has been, and continues to be, the most intense.
When the Tongass old-growth industry dies here, it is not going to be for lack of trying.  Old-growth forests are falling fast and furious this summer on Prince of Wales and nearby Cleveland Peninsuala. We saw massive new clearcuts on National Forest, State, Mental Health Trust, and ANCSA Corporation land. Whole valleys, mountainsides, and peninsulas are being leveled.
If the forests are being mowed down, how can it be that the industry claims to be starving for trees? The need for logs to mill is the whole basis of the Forest Service timber sales, the new Forest Plan, and Senator Murkowski's various crazy ideas about giving away federal land for deregulated logging. It's all to feed this mill you see below you—Viking Lumber—the last industrial-sized old-growth mill in all of Southeast Alaska.
How that is, it became obvious when we looked at it, is that the trees being cut here are mostly all exported away as un-milled, "raw" logs. The piles of logs lined up at the dock for export dwarfed the mostly-full Viking yard.
Visiting the active logging units of the Big Thorne sale the scale of ecological devastation was evident. Logging crews have been targeting the old-growth clearcut units, cutting them as fast as they can.
Which brings me to the wolf pups. In their zeal to get the forest cut down before any legal injunction, logging crews have ended up harassing a particular pack of the imperiled Alexander Archipelago wolves. We'd heard rumors of this prior to our visit, so spent days trying to track them down.
This small pack gave birth to pups this spring near a lake. Their parents, like most all Alexander Archipelago wolves— Islands wolves—had excavated a spacious den under the roots of an old-growth tree. They wanted peace, quiet, safety, and enough food. It is especially important that these pups make it, because the Islands wolf population on Prince of Wales has plummeted to under 100.
For several years the wildlife biologists with Alaska Department of Fish and Game and at the U.S. Forest Service have been aware of this particular den. One of the logging units in the Big Thorne sale was identified by ADF&G early on as overlapping with the mandatory 1,200' buffer around that den. To guard the wolf den locations, ADF&G was sent the maps by the Forest Service, re-drew the unit boundaries to provide the 1,200' buffer, and sent them back, all in secret.
Foresters preferred a different unit layout. By the time the guys with chainsaws showed up, the secret about the wolf family, who was known to be about to give birth to pups in that den, and mandatory logging buffer, were apparently forgotten.
Just prior to the pups being born, loggers cut down the forest on the other side of the lake. The wolves also might also have noticed the hundreds of acres being mowed down just over surrounding ridges, and the heavy-lift helicopters thundering overhead.
The last reliable information on this wolf family, which we obtained by FOIA just after returning, was that the pups were born, but had been forced to abandon the den.
The agency apparently was able to measure from stump to den, proving that the logging had invaded the mandatory (and paltry) 1,200' buffer zone around active dens. [*UPDATE: more recent intelligence indicates the logging actually remained 18ft inside its buffer. GWS 9/8]  Think of that. Logging an old-growth hillside, with helicopters no less, only 1,200' from a den where you know there are baby wolves of an imperiled species.
We never were able to locate the den, but I think we did find tracks from that pack next to an adjacent lake. They might be looking for a new den, or out hunting. Their territory is getting awfully limited. It is becoming harder and harder for a wolf to find a place that is not either a road or a clearcut. With aggressive hunters blaming them for trouble hunting deer, and new clearcuts and roads encroaching on every side, these wolf pups have a tough road ahead of them finding a new home.
We'll be rooting for them, and doing everything we can in the human world to make their road easier. Stay tuned for Jacob's stunning images and video from our trip, and updates on the wolf packs search for a new home.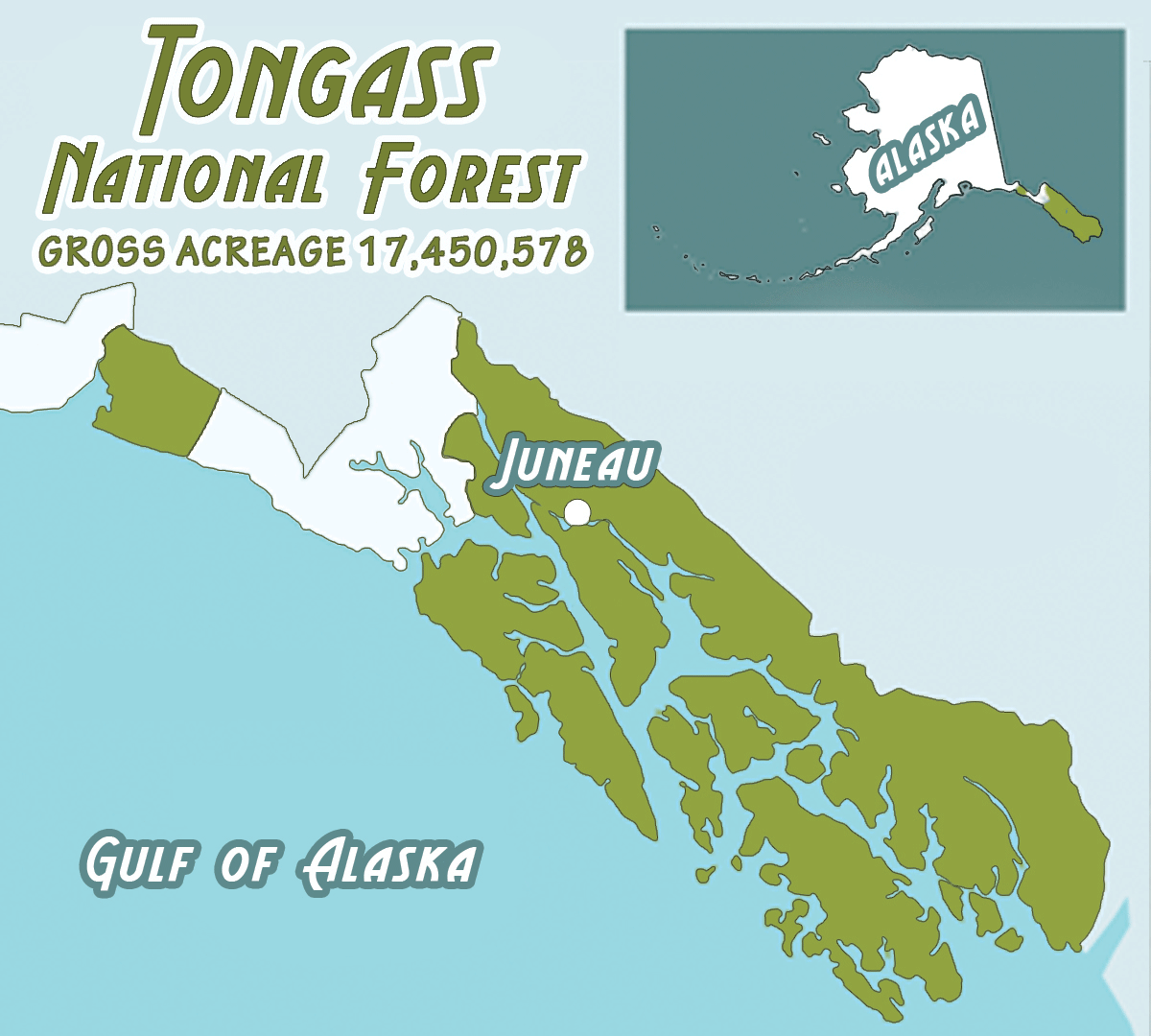 (PS: Stay tuned for video, and more still footage, from the expedition that we plan to release soon.)
---
Photos by Jacob Ritley, from Cascadia Wildlands' Tongass Groundtruth Expedition, 2016.