For Immediate Release, January 16, 2014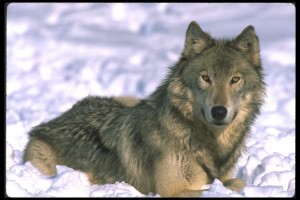 Contacts:
Amaroq Weiss, Center for Biological Diversity, (707) 779-9613
Nick Cady, Cascadia Wildlands, (541) 434-1463
John Mellgren, Western Environmental Law Center, (541) 359-0990
In Washington, Opposition Mounts to Notorious Federal Program's Attempt to Grab Wolf-killing Powers
OLYMPIA, Wash.— Eight conservation groups representing tens of thousands of Washington residents filed
official comments
today opposing a controversial federal agency's attempt to give itself authority to kill endangered wolves in the state. In December the U.S. Department of Agriculture/ APHIS Wildlife Services published a draft "
environmental assessment
" proposing to broaden its authority to assist the Washington Department of Fish and Wildlife killing wolves in response to livestock depredations.
Conservation organizations are calling for Wildlife Services to prepare a more in-depth "environmental impact statement" because the less-detailed assessment already completed contains significant gaps and fails to address specific issues that will significantly affect wolves and the human environment. The document prepared by Wildlife Services failed to provide data to support some of its core assertions, including whether killing wolves actually reduces wolf-caused losses of livestock. It also failed to address the ecological effects of killing wolves in Washington, including impacts on wolf populations in neighboring states and on nontarget animals — from federally protected species such as grizzly bears and Canada lynx to wolverines, which are now proposed for listing under the federal Endangered Species Act.

"Allowing a notoriously anti-predator program like Wildlife Services to kill wolves will hobble wolf recovery in Washington, where they remain an endangered species," said Amaroq Weiss, West Coast wolf organizer with the Center for Biological Diversity. "Wildlife Services is nothing but a killing machine for the livestock industry. There are certainly better options to protect livestock than killing these beautiful animals that are so important to ecosystems."
Wildlife Services is a stand-alone program under the USDA that kills roughly 1.5 million animals per year, including wolves, grizzly bears, otters, foxes, coyotes, birds and many others, with little public oversight or accountability. Thousands of animals killed by Wildlife Services each year are nontarget wildlife species, endangered species and even people's pets that unwittingly get caught in traps or ingest poisons intended for target species.
"There is no place for Wildlife Services in Washington wolf management," says Nick Cady, legal director with Cascadia Wildlands. "This unaccountable agency program appears to have one mission only — to sanitize the landscape of America's wild animals that interfere with agricultural operations."
Long criticized as a rogue entity, Wildlife Services was recently the subject of a
prize-winning newspaper exposé
of its shadowy operations, as well as a
documentary
containing firsthand descriptions by former program personnel of illegal and cruel practices perpetrated on wildlife and domestic animals. Conservation groups
petitioned
the USDA in December demanding reform of Wildlife Services' entire operations. Since then there have been congressional calls for an
investigation
into the program's questionable operations, nontransparency and lack of accountability.
"Given the pending USDA Inspector General investigation into Wildlife Services, now is not the time to be granting this program new authority to kill wolves in Washington," said John Mellgren, staff attorney at the Western Environmental Law Center. "Broadening its killing authority would introduce new roadblocks to wolf recovery in Washington, and with the use of questionable and inhumane tactics."
Wildlife Services acted in an advisory capacity in the 2012 killing of the Wedge pack by the Washington Department of Fish and Wildlife. In that instance, the department killed seven wolves after depredations of livestock on public lands, despite the rancher's failure to take sufficient action to protect his cattle. The public, in Washington and across the nation, was outraged, and a Washington state senator called for an investigation into the Wedge pack's annihilation.
"Wildlife Services consistently fails to consider the ecological value of wolves and other large carnivores to maintaining ecosystem health, integrity and resilience," said Camilla Fox, founder and executive director of Project Coyote. "It's high time Wildlife Services factored in these values and put its money where its mouth is by implementing and emphasizing non-lethal methods to reduce livestock-predator conflicts."
Wolves were driven to extinction in Washington in the early 1900s by a government-sponsored eradication program on behalf of the livestock industry. They began to return to Washington from neighboring Idaho and British Columbia in the early 2000s, and their population has grown to the current 10 confirmed packs and two probable packs. While this represents solid growth, wolves in the state are far from recovered and face ongoing threats. Wildlife Services' proposal poses a new, significant threat to the full recovery of wolves in Washington.
The organizations calling on Wildlife Services to prepare a full environmental impact statement include Cascadia Wildlands, the Center for Biological Diversity, Western Environmental Law Center, Project Coyote, Predator Defense, WildEarth Guardians, Kettle Range Conservation Group and The Lands Council.
###