By Bob Ferris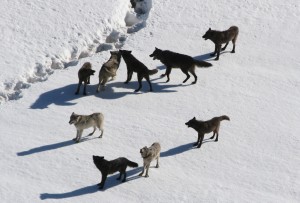 "Silence in the face of injustice is complicity with the oppressor." Ginetta Sagan
The title of a recent opinion piece in a Utah paper nailed it: Making War on Wolves. Because what we are seeing out there is truly a war waged on a wildlife species. And like with most wars there is a parallel public relations campaign making outlandish and unsupported claims against the "enemy" to justify and encourage actions that would normally be considered unethical or inhumane.
Poll after poll shows that anti-wolf forces are in the minority, but their myth and fear-based campaigns can only be countered by a loud and resounding voice of compassion and rationality. We, who believe that wild places are better off wild, need to speak up and urge others to do the same. And we need to do that before October 28, 2013.
So what do we need you to do?
1—Send a personal letter to Interior Secretary Sally Jewell (
click here
for draft language and addresses)
2—Add you name to petitions (
click here
) and share those petitions widely through all your social networks (please use the share this buttons at the bottom of this post).
3—Share the following tweet (below) as Sally Jewell is active on Twitter and her staff are monitoring hash marks (simply click on the link and Twitter does the rest).
4—Support your favorite wolf advocacy organization. (We hope it is
Cascadia Wildlands
but others need support for what will be a protracted campaign)
Follow these four easy steps—almost like a wolf waltz—and we will put these incredible creatures on a solid pathway to recovery.