May 1, 2016
Dear Cascadia Wildlands supporter,
Just recently, a friend and Cascadia Wildlands supporter conveyed to me with uncontrolled excitement that he saw a wolf in the wild somewhere between Ashland and Klamath Falls. It reminded me just how far we've come in the past eight years — from zero wolves in the state to now well over 100, including wolf packs in the Oregon Cascades! This is an incredible feat that YOU have helped us accomplished through years of advocacy, determination, commitment and resiliency.
In recognition of this remarkable progress, Doug and Linda Carnine, long-time supporters of Cascadia Wildlands and wolves, will match your contribution dollar-for-dollar up to $5,000 during the entire month of May. Will you make a donation today to ensure gray wolves continue on the path toward recovery?
While it has been ever-inspiring to witness wolves repopulate places like the Rogue River basin and the Eagle Cap Wilderness, recovery hasn't been without bumps. In November, the Oregon Department of Fish and Wildlife Commission voted 4-2 to remove wolves from the state's list of threatened and endangered species. This premature decision will ultimately make it easier to kill recovering wolves in the state and was opposed by prominent scientists and thousands of wolf advocates like you. We continue to push back against this shortsighted decision on a number of fronts, including in the courtroom. We can't let the state roll back our decade of incredible progress for wolves.
Please stand with Cascadia Wildlands and gray wolves in the region by making a donation today. Your contribution will go twice as far during the month of May, as it will be matched up to $5,000 through the generosity of the Carnines.
I'm proud to report wolf populations aren't just growing in Oregon, but in Washington and California as well. This growth means a greater chance you, too, will hear the unforgettable howl or catch a memorable glimpse of nature's top predator while exploring the wilds of Cascadia.
Here is how your donation helps us help wolves in the coming months:
• In Alaska, we will contest old-growth timber sales on the fabled Tongass National Forest that are destroying Sitka deer habitat. A decline of the deer is having a negative effect on the Alexander Archipelago wolf, a unique subspecies that swims between the rainforest islands of the Tongass.
• In Washington, we will continue our legal challenge to prevent Wildlife Services from killing wolves. This rogue agency thinks its sole job is to kill America's wildlife at the behest of special interests. A federal judge ruled in our favor in January. We will also continue to strengthen our coalition of wolf advocates to ensure the state is held to high standards when managing wolves.
• In Oregon, we will continue our legal challenge of Wildlife Services' plans to kill wolves, ensure the five-year review of the Oregon Wolf Plan maintains strong protections for the species, continue our legal challenge of the decision to remove state Endangered Species Act protections for wolves, and educate community members and policy makers about the success of Oregon wolf recovery.
• In California, we will work to assure the state's final wolf plan has the strongest protections possible by networking with colleagues and showcasing the successful Oregon model.

Wolves returning to our wildlands in the Pacific West is an exciting and refreshing reminder of the rewilding potential of our natural world. Together, we will leave Cascadia a better place for wolves and for generations to come. Thank you for sharing this vision and for your support.
Wildly yours,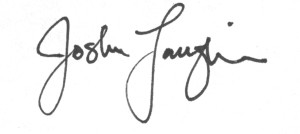 Josh Laughlin
Executive Director
(Wehana Pack pup howling, photo by ODFW)